ABOUT

WORLD

B1FNIGHTCLUB
京都盆地を"もっと暑く"
それが、
WORLD KYOTOのミッション!!!
Keeping the Kyoto valley basin hot!
2001年に四条木屋町にオープンして以来、年々規模を拡大し続け、現在ではキャパ1000人を超える。名実ともに京都最大級のナイトクラブへと成長。国内TOPDJのイベントに加え、近年ではSKRILLEX,STEVE AOKI,Fatboy Slim,RICHIE HAWTIN,3LAU,JONAS BLUE,YELLOW CLAW,W&Wをはじめとする海外トップアーティストの招致も行なっている。阪急河原町①番出口から徒歩1分、WORLD KYOTOへおこしやす。
Year after year, since its opening near Shijo Kiyamachi in 2001, WORLD has continued to get bigger and bigger! Today with a full capacity of 1000, it is one of Kyoto's biggest entertainment spots. Every weekend, WORLD not only brings in the biggest Japanese artists, it has also hosted international acts such as SKRILLEX, STEVE AOKI, Fatboy Slim, 3LAU,JONAS BLUE,YELLOW CLAW,W&W and RICHIE HAWTIN to name a few. We are just a 30 second walk from the Hankyu Kawaramachi station, Exit no ①. Welcome to WORLD KYOTO.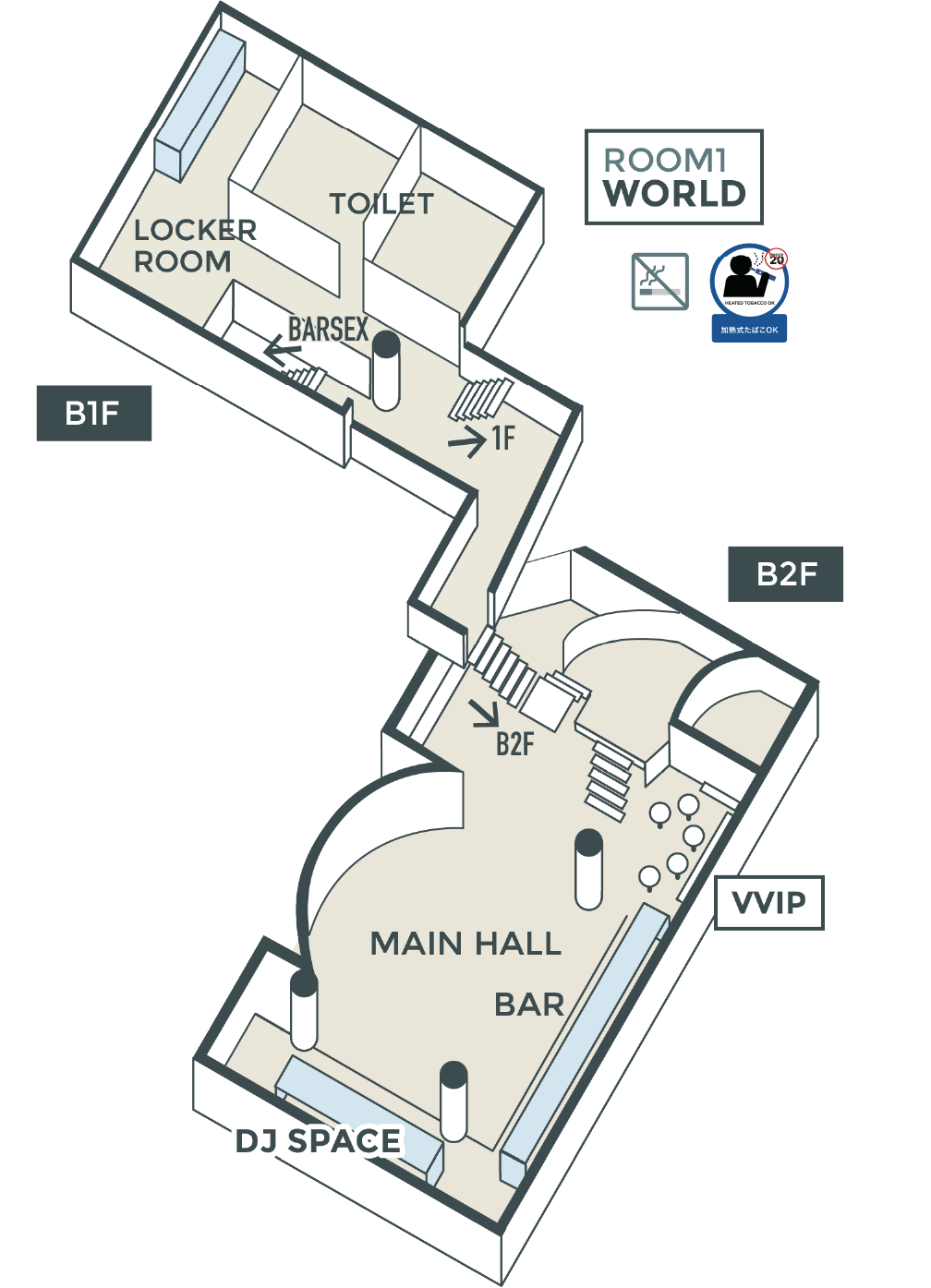 ABOUT

VIP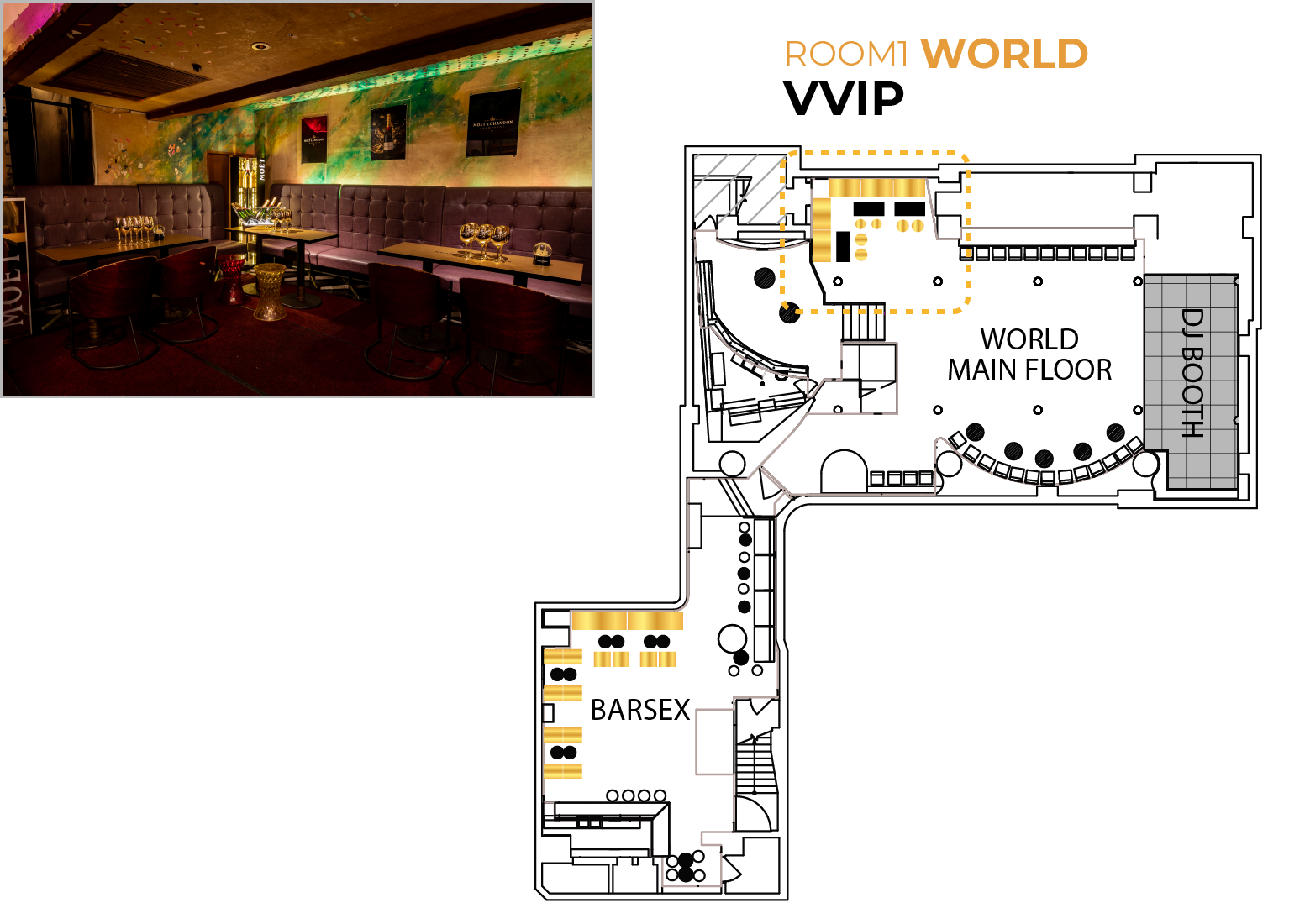 ROOM1
WORLD

VIP

(禁煙/NO SMOKING ※IQOS ONLY)

2名〜最大10名様まで / 2 persons〜Max 10 persons
下記の料金に別途サービス料金を加算させて頂きます。
Service charge is not included on the price above.
伝票清算も承ります(後払い)。
We are also able to keep a tab.
当店にそぐわない雰囲気、服装、泥酔の方はご入場をお断りする場合がございます。
There is a chance that we will deny entry if you are not following the dresscode or if you are drunk.
着席人数の追加は状況により、お受け出来ない場合がございます。
Depending on the situation, there is a possibility that we cannot accept your request on seating more people.
イベントによっては特別料金・メニューになる場合がございます。
There are special pricings and menus depending on the event.
金・土 曜・祝前日
FRI-SAT / A DAY BEFORE A HOLIDAY
1Table / 4Pax
¥20,000 / 1HOUR
Champagne, Drinks included
¥30,000 / 1HOUR
Champagne, Drinks included
Identification

20歳未満の方のご入場は一切お断りしていますので、写真付き身分証明書(ex.運転免許書/パスポート/学生証)のご提示をお願いいたします。
20 and Older to enter. Photo ID required. No Exception!!
DRESS CODE
過度にカジュアルな服装の方は入店をお断りさせて頂く場合がございます。ジャージ、ス ウェットパンツ、サンダル等の雰囲気にそぐわない方のご入場もお断わりしております。 スタッフおよびセキュリティーの指示にお従い下さい。
At this club, we have a dress code. Please respect the dress code and wear attire suitable for the events. *Overly casual attire is not permitted, and we reserve the right to refuse entry to those wearing sweatpants, sandals, etc... Follow the directions of the staff and security at all time. Thank you.